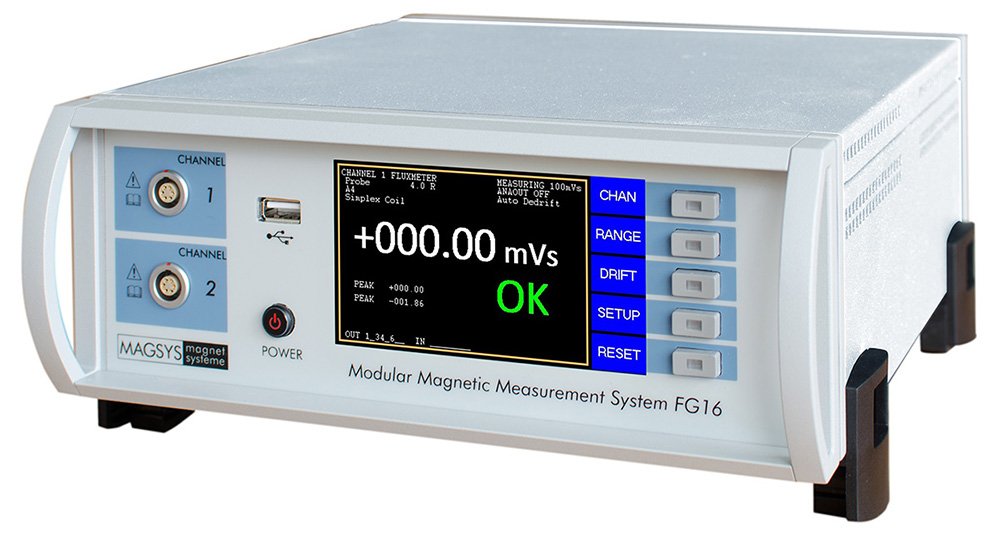 The fluxmeter FG16 is a modular device to measure magnetic values and can be equipped with up to 4 channels.
The completely redesigned analog-/digital-hybrid design of the fluxmeter plug-in allows measurements of both high-dynamic as well as very fast events and is virtually drift-free.
The FG16 measures the following magnetic values:
Flux Φ (in Wb, Vs)
Flux density B (in T)
Field strength H (in A/m)
Polarization J (in T)
Dipole moment m (in Am²)
Custom-designed probes complete the measuring application.
The FG16 is easy and intuitive to use with a touch display and separate buttons.
Additionally, the FG16 provides a variety of modern interfaces such as Ethernet, USB, CAN bus, RS232, analog and 24 V digital signals for control and output of measurement results.
The device is suited for demanding measuring applications in the field of research and development as well as for automatic process control, quality assurance and incoming goods inspection.

Typical application examples:
Flux or flux density measurement of a work piece during magnetization
Stray field measurement
Test of the dipole moment and the polarization of a magnet
Probes with integrated parameter memory simplify correct measurements.
Comprehensive accessories, such as probes, reference magnets, also in special design, are available.
Special Features
Modular design (up to 4 channels)
Color touch display
Easy to use
Standard interfaces implemented
Very low drift
Probe connector with low thermo-electric potential
Internal window comparator
Automatic probe detection
Self-test on power-up
Integrated calibrator
Digital pos./neg. peak memory
Analog peak-hold function
Firmware updates via PC
2nd input jack on rear side
Frequency range 0 ... 20 kHz
Sturdy case with option for 19 inch rack mount
Measuring unit freely selectable