May 2022 CWIEME Berlin and MAGSYS to celebrate their 25th Anniversaries
After a two-year absence due to the Covid-19 pandemic, MAGSYS will be exhibiting again at the CWIEME in Berlin.

This year we can celebrate a special anniversary together with the CWIEME: A quarter of a century of MAGSYS and the 25th CWIEME in Berlin!
On this occasion we would like to invite you to our booth C50 in hall 3.2. We would be happy to discuss your current and future magnetizing projects with you.
Here you can register for your free tickets to the exhibition halls in Berlin.
The CWIEME will take place from May 12 to 15.
We are looking forward to your visit!
September 2021 Coiltech Exhibition in Pordenone, Italy

This year, too, MAGSYS will be exhibiting at the international Coiltech fair in Pordenone.
We are looking forward to welcoming you to our booth B29 in hall 8 and we will take our time to discuss your present and future projects with you.
Here you can get your free admission ticket which allows you to avoid annoying lines at the entrance and also to gain access to interesting conferences.
Hope to see you soon in person!
September 2019 MAGSYS to Exhibit at Coiltech in Pordenone, Italy
The Coiltech is an international trade show for the Coil & Winding industry, materials and machineries for the production of electric motors, generators, transformers and winding systems.
MAGSYS will be exhibiting there from 25 to 26 September. We would be happy to invite you to a personal conversation at our stand no. 8. B30 in hall 8. By means of a pre-registration you can skip the line at the entrance. We are looking forward to welcoming you in September. Pordenone Fiere Viale Treviso 1 33170 Pordenone Italy
May 2019 The 24th CWIEME in Berlin
For the 24th time, the CWIEME will take place in Berlin, the largest manufacturer's trade show for electric motors and transformators.
For almost as long, MAGSYS is also represented as an exhibitor at this trade fair.
We are pleased to invite you again this year, in the period from 21 to 23 May 2019 at our booth C50 in hall 3.2.
Here you will get your free entrance ticket.

September 2018 Premiere at Coiltech

Visit us at our booth n° 8-B30 at this year's Coiltech fair in Pordenone, Italy.
February 2018 MAGSYS Warms-up Youth Soccer Team
Suitable for the ice-cold weather of recent days, MAGSYS general manager Hartmut Pagel is handing over a new set of warming stadium jackets to the successful C-Youth team of SV Westfalia Huckarde.
September 2017 MAGSYS sponsors Handball Youth Team
The female C-Jugend team of the HSG Schwerte-Westhofen is happy about new jerseys for the coming season 2017/2018.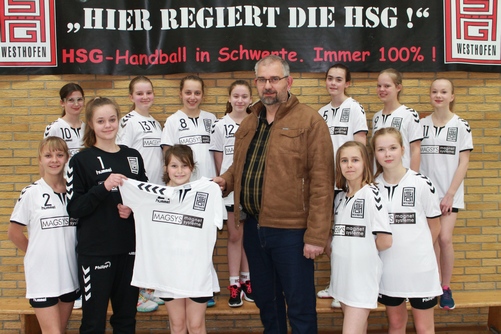 The picture shows MAGSYS staff member Frank Brinkmeyer handing out the new gaps to the successful girls team.
June 2017 20th Anniversary and CWIEME Berlin
Tradition and Change.
This summer, MAGSYS will celebrate its 20th anniversary.,
The preparations for a big party on this special anniversary are in full swing. With the extension of our building at the Dortmund-Huckarde headquarters, MAGSYS is making itself a gift.
May 2016 MAGSYS to Present New Measuring System at CWIEME Berlin
At this year's trade show in Berlin, MAGSYS will present a new measuring system to the visitors.
The modular measuring system is unique on the market and combines the basic measuring methods in magnetics.
It can be used both as fluxmeter or gaussmeter.
November 2015 MAGSYS supports Refugee Relief Organization in Dortmund
Due to recent events, MAGSYS supports Projekt Ankommen e.V., a Dortmund-based organization recently founded with the objective to help refugees, after they moved out of their interim accomodations, in order to accustom to their new dwellings in Dortmund.